On Tuesday we read a post written by Emma Willis bespoke shirt makers about how they were helping out NHS workers who were short of scrubs – an essential clothing item for the hard-working employees risking their lives every day to help people in need during the current crisis.
Free scrubs for NHS workers
We immediately instructed our tailors to begin production, but in the meantime made a donation to the Emma Willis fund to order 10 sets for a local hospital in desperate need. As these were for the paediatrics unit we added small rainbows with staff names. Both staff and patients were most excited and pleased with the donation.
The mid-longer term plan is to roll this out in a more advanced way, making hundreds and potentially thousands of sets to help in fighting this horrendous illness. If you would like to donate to make this happen please visit:
Discount of 25% on all client orders + complementary bespoke shirt
As everyone is affected by COVID-19 we've put our heads together with tailors and cloth merchants alike to offer our clients this discount for the duration of the pandemic. This is across all of our ranges and any suit purchase comes with a complementary bespoke shirt worth £250. We hope these savings will ensure we can keep up the good work and assist those in need at the same time.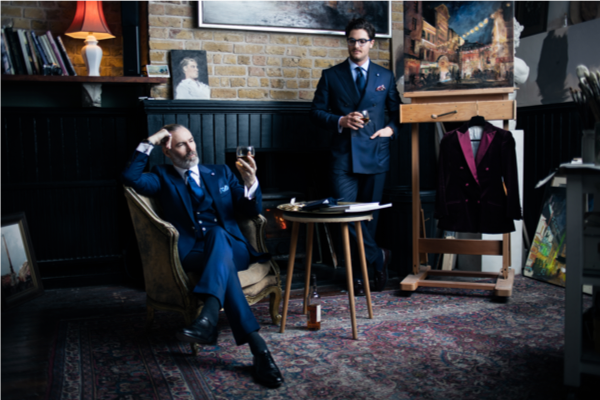 Video consultations
To enable clients to order in a safe way we're offering video measuring, consultations and cloth tutorials featuring all of your favourite cloth bunches. We've also put together a written style guide featuring all the styles you can possibly imagine.
Finally, we're offering complementary toile fittings (as below). The suit will come in a 'dummy cloth' for your partner to fit alongside you whilst we guide you through the process over Zoom or Facetime. Please get in touch with us to see how we can help. We wish you all the best in overcoming the situation in the best way possible.