A bespoke or made to measure suit differs from an off the peg suit in various ways. With bespoke you have full customisation of style, thousands of swatches to choose from, and – of course – a better fit as they are made to your own measurements and shape. When you're buying a tailored suit, these are the key points you should be looking at to get the best value for your money.
Style
Before you meet your tailor, look into the different style options you could choose for your suit. Double breasted or single? Notch lapel or Peak? Plain cloth or a pattern? Look to celebrity styles or to your well-dressed colleagues, even films and TV shows – inspiration is everywhere!
Notch lapel – A lapel with a small triangular notch cut from it. The most common lapel in the office is often a notch. It suits casual and professional suits alike, though it is most commonly seen on a two or three button single breasted.
Peak lapel – A lapel with a pointed extension added at the join between lapel and collar. A bolder look can be obtained with a peak lapel. It will draw the eye to the shoulder creating a strong silhouette. Because of this, a wider peak lapel is often favoured to enhance ones figure.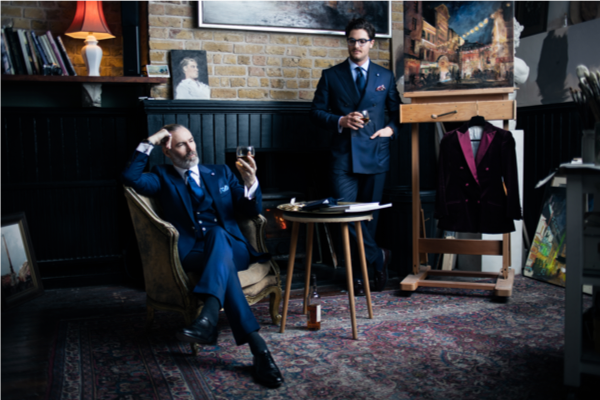 Single Breasted 2 Button – A single-breasted jacket with 2 button (as above) is the most commonly seen suit style, especially in offices and business environments. A notch or peak lapel will both work with two buttons but a notch is the most common in an office environment.
DB 2 x 3 – A double-breasted jacket with 6 buttons but only the lowest 2 fasten (and the anchor button on the inside). The lowest 4 buttons that you see are parallel, with the top 2 being the wider two. This is the most commonly seen DB jacket style and will suit most body shapes.
Fit
Thinking about how you want your suit to fit is arguably the most important thing to be thinking about. Do you want to go for a slightly looser more old-school look that allows for more room through the chest, waist and legs? A more modern fit that's slightly more tailored, being nipped in a little through the waist and a tapered leg? Or a slim fit suit, close fitting through the body and sleeve with a tighter trouser to match?
Cloth
Next you've got the vast array of cloths to choose from. From the colour and the print down to the weave – there's a lot to consider. Brighter colours for many office workers are less popular, so look at perhaps a herringbone to add a little detail to your suit without going over the top. If you travel with work and know you're prone to overheating on the tube in the summer, you could consider a mohair suit which is popular for its breathability in heat and its spring that allows it to bounce back from wrinkles with ease.