How to dress like 007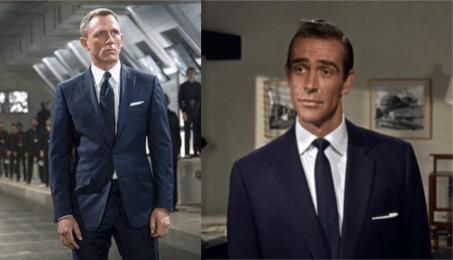 Aside from the change of fit throughout the years, Bond's wardrobe for the most part remains unchanged – at least speaking of his staple items. Each film has a signature outfit that best fits whatever espionage scenario that he may find himself in, but generally speaking the Bondian uniform remains the same. Is this a coincidence? I think not.

The main two reoccurring culprits are – just for a change – your good old greys and blues. As covered in many a previous post, a well cut navy or grey suit will look as good on a young man at his prom as it will on his grandfather. The images above and below are taken from the newest and the oldest Bond films, just to reiterate how well the suits have aged across a 58 year gap. The biggest change in these suits over the years has been the fit. The newer films have Daniel Craig's Bond in very tight fitting suits which causes the "X" and collapsing fronts on the majority of his jackets. Though this slim fit is currently on trend, it will age badly in comparison to Sean Connery's Bond. Connery had a more old-school, looser fit: Tailored, but not to within an inch of its life. Something to bear in mind when talking to your tailor about the best fit for your bespoke suit.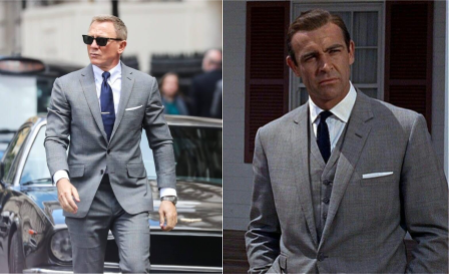 Although the navy and grey options are perfect for our favourite spy to blend into The City when he's back in London HQ, these would have Bond standing out like a sore thumb whilst on one of his more exotic escapades. His answer? Normally Bond's go-to for warmer, more casual climes are neutral colours. Below highlights a couple of examples of a khaki suit being worn over the years, both paired with a light blue shirt and – interestingly even in this day and age – a blue tie.

When going even more casual beige chinos and a fitted navy polo shirt have come up again in both the oldest and newest iterations of James' wardrobe. He's added a chunky knit cardigan to this look before for an extra layer of warmth, and from the trailer for the newest film "No Time To Die" we very briefly get a glimpse of a Navy safari jacket worn over a similar neutral/navy chino combination.

Is a Bond blog even a Bond blog without acknowledging the classic Dinner suit? It would be rude not to. While we have actually seen various different styles of dinner suit on Mr Bond, he always comes back to the one classic. In keeping with the theme of this blog, the below two images are from the trailer of the newest Bond and the eternally cool opening scene of the very first film, Dr No.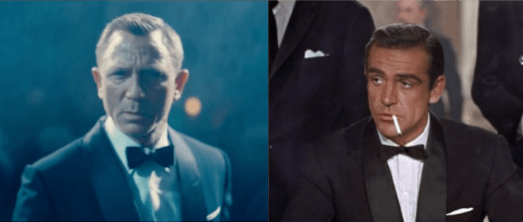 Both of the suits in question have a traditional shawl lapel, are single breasted with one button and have satin jetted pockets. It doesn't get much more classic than that. Simple, elegant and understated. Perfect if you wish to blend in seamlessly whilst maintaining an air of style awareness. Brosnan's Bond appeared in a peak lapel, which is by no means a bad look, but it does create a sharper look which may draw in unwanted attention. This may not be an issue for you, but a spy might think twice. Roger Moore's Bond even wore a double-breasted dinner jacket which is quite unusual, especially for someone keeping a low profile, but then again Moore's Bond is arguably the "silliest" Bond, due to his very era-restricted wardrobe consisting of brighter colours and wider cuts. If you're reading this blog to dress like Bond, Sir Rog may not be the best example to follow…