So you've spent the last year building up your wardrobe, you've probably got a navy, a charcoal or a black suit, perhaps even a brown or a slightly louder check. Each suit magnificently tailored to you; a collection to be proud of.But, it's not over yet. You may have an immaculate wardrobe, but do you have the shoes to match? "Of course I do" I hear you cry. But I'm not talking about the one pair of scuffed smart black shoes that you wear every day; I'm talking about a few choices that you may not have even considered.
Oxford – An oxford shoe is the smartest option for formal wear. An oxford shoe is any type of shoe with a closed lacing style. Within the oxford style there are several style sub-genres: completely plain (whole-cut/one piece), a toe cap oxford, a wingtip oxford and a plain toe oxford. As a rule of thumb (similarly to suits), the more detail/decoration on the shoe, the more casual it becomes. For this reason alone, the whole-cut oxford is the smartest shoe followed by a plain toe oxford; the toe cap/wingtip is the most casual style of oxford. The smartest colour for an oxford is black, though a deep brown comes a close second.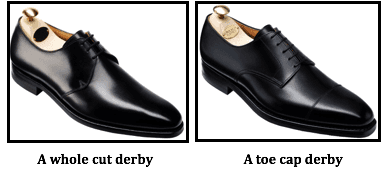 Derby – A derby is very similar to an oxford in style, the difference is that derby's have an open lace rather than a closed lace. This gives the shoe a little more flexibility and makes the shoe slightly more informal than an oxford. Derby's can be found with a wingtip (most informal), a toecap (moderately formal) or a whole cut (most formal derby). Derby's are most commonly seen in black, which is the smartest option. Brown or oxblood derby's give a much more casual look.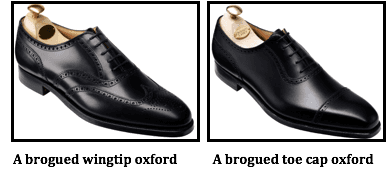 Brogue – A brogue is technically not a type of shoe. A brogue is any kind of shoe with "brogueing". Brogueing is the term used to describe the decorative perforations punched into the leather either following the shoes seams or in a decorative pattern. Though brogueing can technically be used on any shoe, it is most commonly seen on oxford, derby or monk strap shoes.
The most common types of brogueing are; Full brogues (wingtip brogues), quarter brogues, semi-brogues and long wing brogues. A brogued shoe in black is less formal than an oxford or derby, but is still acceptable for formal suiting. Brown or tan brogued shoes are still a smart option, but will be better suited to jeans or chinos.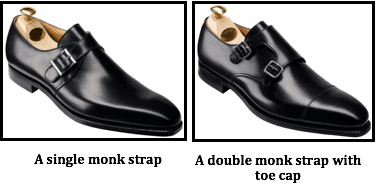 Monk Strap – Monk strap shoes offer certain flexibility to ones wardrobe. Instead of having a lace fastening like most shoes and boots, monk straps have one or two straps that cross the top of the shoe and fasten to the side using buckles. These buckles add a splash of detail that not many other shoes provide. Dressed down with chinos or jeans monk strap shoes will suit very well. As well as this, a plain work suit can be given an extra bit of oomph with the decorative buckles of a monk strap. The monk strap can have a toe cap or be plain and isn't exempt from brogueing. As usual, black is the most formal colour, with dark brown and oxblood close behind.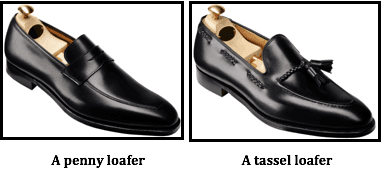 Loafer – Loafers are the most casual shoe type on this list. They have no straps or laces, as they are simply a slip on shoe. They were originally created as a comfortable shoe to be worn around ones abode and only up until recently did they become a shoe that can be worn casually. There are three main types of loafer: the penny loafer, the tassel loafer and the bit loafer. Some would argue that the bit loafer is most formal due to the decorative metal bar across its front. A penny loafer has a leather strap across the front, with a decorative shape cut into it. The tassel loafer looks most like a vintage slipper, with tassels attached to the front of the shoe instead of a leather band.
In the modern age loafers are very commonly seen in the UK, often worn with slimmer cropped trousers. Though this style is seen often, the combination of a very formal suit and a very casual shoe may be deemed incorrect in more formal environments. We'd recommend reserving loafers for more casual suits and looks. If you still chose to wear your loafers with your business suit, a black penny will look the smartest (the bit loafer may be seen as too "flashy").
This list covers just a few types of shoes, but these are the most commonly seen shoes in any gentleman's wardrobe, at least for their formal wear. As a rule of thumb, if the shoe presents more detail and steers away from being black, the less formal the overall look will become. Now you know your suits and you know your shoes – you're almost unstoppable!
{{cta('227531ed-7f6c-452f-83d0-5db9781045d4′,'justifycenter')}}
Or
{{cta('aaa8fc7c-fe3d-4841-843d-c18648a3d917′,'justifycenter')}}