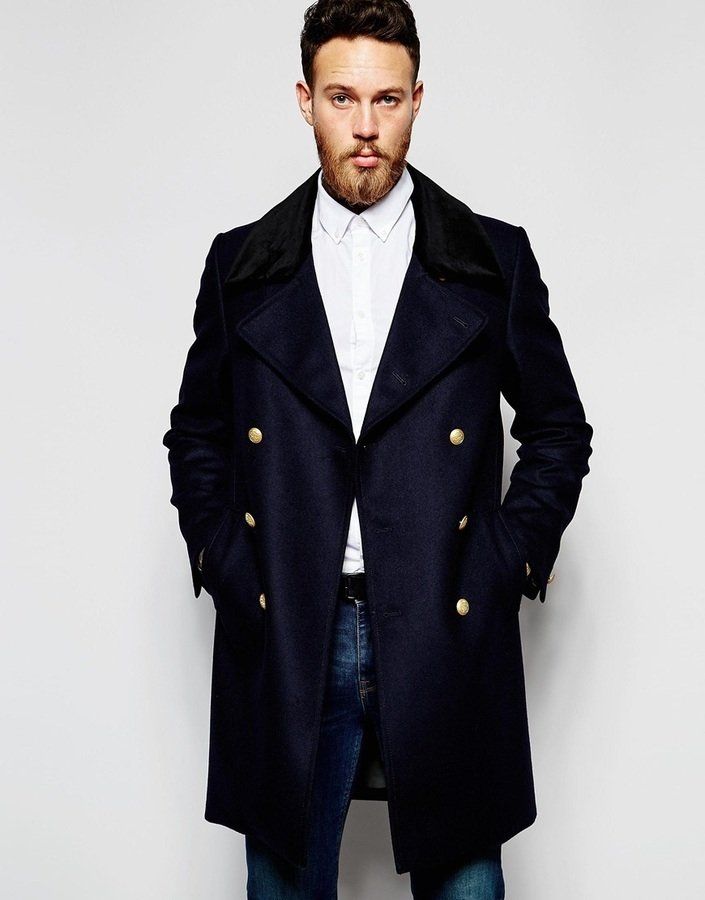 You've got your thicker suits out for the winter, along with the classy leather gloves and the cashmere scarf. The look is almost complete, but alas, the wardrobe lacks a perfectly tailored coat. What to do, what to do? A tailored coat can be an expensive investment, but the cheap off the peg one you bought last year is already tired and scruffy. A dilemma indeed.
Or is it? It can't be denied that buying a tailored coat can make a dent in your wallet, but the idea of a tailored coat – much like a tailored suit – is that it lasts. Your coat will be worn for only a few months of the year and will be taken off when you've reached the cosy shelter of your office or home. This will mean the wear of your coat is minuscule in comparison to your suits, so there's no reason that your coat wouldn't be going strong 15 years from now. Even though you've spent more than you would have, you've only done it once. You won't need to spend a smaller amount 15 times over the next decade and a half.
So how do you choose a coat that will suit your style over all that time? The trick is to make the coat as personal as possible. If you know you only wear 3 colours of suit, make sure the coat will match all 3. If you want to wear the coat both casually and for work, aim for a slightly less formal style that will work in both environments. As a guide;
The pea-coat – A pea-coat is a double-breasted coat, with a large military style collar that will "pop" to shelter the wearer's neck. Shorter than an over coat, a pea-coat will fall to about the middle of the wearers thigh. Pea-coats are generally made from quite a heavy cloth and are quite stiff, making them a very warm garment. They are a much more casual option, as they work well with jeans and smart shirts/jumpers. Though a pea-coat can work with a suit, it may make the overall look more informal than would be recommended in a work environment.
The Double-Breasted overcoat – A double-breasted overcoat is arguably the smartest option. Often styled similarly to a double-breasted suit; the coat will normally have 6 buttons in a "Y" formation. Most double-breasted suits and coats will have a peak lapel (as will almost all double-breasted garments). The opening may be a little lower than on some coats due to the style, so if you find that you normally feel the cold, be sure to ask your tailor to raise the opening. This type of overcoat will fall just to the back of the knee, offering a little more trouser protection.
The single-breasted overcoat – Smarter than a pea-coat, but not as formal as a double-breasted – the single-breasted coat is a great middle-ground. Styled very similarly to a single-breasted jacket, a single-breasted overcoat can have either a peak or notch lapel and will have very similar pockets on the waist and sometimes the breast – useful for gloves, or even a pocket square for that extra detail. Like it's double-breasted brother, a single breasted coat will normally fall to the back of the knee, though on a shorter gent a tailor might recommend a slightly shorter length to maintain proportion.
There are many variants of the above coats; a coat made from a fabric below 14oz is classed as a topcoat, 14 – 18oz is classed as an overcoat and anything above 18oz is a greatcoat. These rules apply regardless of style. I have given a brief guide on styles in this blog, but there are many options you can choose to personalise your coat. Gauntlet cuffs, belts, hand-warmer pockets and shoulder epaulettes spring to mind – to name just a few. Ask one of the Fielding and Nicholson tailors if you need extra tips on how to style your new coat, the possibilities are almost endless. Once you've styled your coat, the next step? Choosing your cloth.