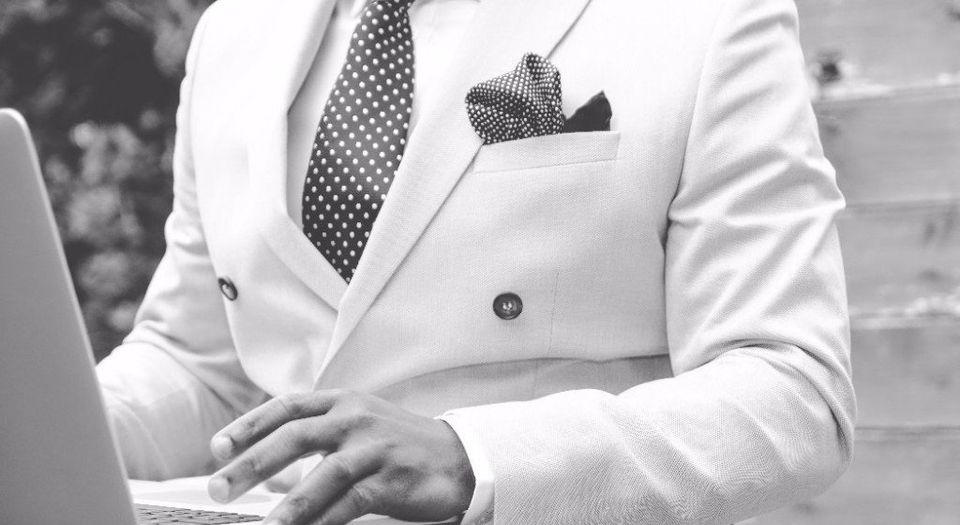 It's official; we are already over halfway through 2017, so we've been taking a look at the men's suit trends that are really making an impact. Read on for all our best advice and tips on how to dress to impress this year.
Back in time to the 1920s
We never thought we'd see the return of the double-breasted suit, but as trends do, it's made a return with a few much-needed adjustments. The double-breasted suit is now much more subtle thanks to thinner lapels.
If you are taking on this style, you need to ensure your new suit is a good fit or you risk looking like a 1920s banker. The new slimmer fit has modernised the once ill-fitting suit to make it sharper and more formal. The jacket is also notably shorter, again bringing a better fit. As the double-breasted suit is less conventional, it would be a bold choice for everyday wear,but when you're looking to really impress and stand out, it's a great choice.
The double-breasted suit isn't the only 1920s style making a comeback. White jackets with contrasting black trousersare becoming more common place at formal events. The mix and match style has been around for a while, but now it is even making an appearance at black-tie events. The contrast brings a different edge to the traditional black-tie while remaining formal and sophisticated.
Still on the rise
The double-breasted suit isn't the only slim fit option on the market. Granted, this is not a new style, but we are seeing more and more suits adapted to offer a slimmer and more tailored fit.
More lightweight suits are also still big this year and a great choice for a summer event or wedding, although they come with both pros and cons. Cotton suits are breathable and machine washable, though granted they are lessflexible and can look worn quicker than a traditional suit. Similarly, linen suits are lightweight andperfect for a sunny day, although again they will crease more easily.
More colour, more layers, more texture
Men everywhere are becoming braver, taking on more colourful suits. No longer are suits limited to the tradition grey,blue and black, but they are embracing more colour allowing you to showcase your personality. You can choose a colour that really enhances your skin tone. Pastel suits are becoming popular as well as bolder colours, in particular green. The green suit can be adapted according to the season; you could opt for a deep green suit for autumn or winter and abrighter green for the sunnier months.
Suits are also becoming more layered and textured with three piece suits and tweed making a comeback.  
There are a number of tailors offering bespoke suits in London that will help you find a suit that works for you soyou can perhaps embrace one of these new styles.