Par for the course; the first suit on the list is blue. Everyone by now is aware of the power of a blue suit in the office and in other blogs we'e explored how blue suits can be mixed and matched with other suits for even more looks.
Now you know you can even bust out your favourite summer power-shirt with a blue suit for a great smart casual look. Try going monochrome by wearing a lighter shade of blue shirt – whatever the pattern may be – over a darker blue shirt for a slightly more subtle iteration of this style. Or by all means with blue all colours match, so if you've got a technicoloured dream shirt and you're ready to make an entrance, the stage is yours.
Another familiar face in the wardrobe is the grey suit, which also has the versatility to switch between smart and casual realms. Less so than a blue suit, as combining too many colours in the shirt is harder to execute, especially with a dark shirt.
Monochrome again is always a good option: a nice sharp charcoal suit over a black and white shirt is a great mix on the normal grey suit, white shirt, black tie look. To introduce some colour, a suit in a lighter shade of grey will work nicely with one colour and white in the pattern such as pinks, blues, greens and if you're really brave oranges and yellows, but never all at colours at once.
Browns and tans have been appearing in blogs with an increasing frequency in recent years for good reason. The biggest turn-off to brown for most seems to have been the reputation for being boring and lacklustre. In the last decade celebrities have recently begun wearing the brown suit which has seen its popularity rise.
Pair a brown suit with a patterned shirt and there's no danger of anyone calling you dull. Monochrome is again a foolproof option for brown; for a darker brown suit try a lighter brown and white shirt, for a lighter brown/tan suit try a black and brown shirt. Even leopard-print is a great option if you're feeling bold!
Suits of pink through to maroon are creeping up the popularity ladder and -as a summer suit – they're perfect. Its unlikely to be the kind of thing one would wear to the office so it's a great opportunity to treat it as the show-stopper it is. Pink suits work best with blues, purples and reds. Darker suits like maroon or burgundy work better with a lighter shade beneath it like pink and white patterned shirts (monochrome again)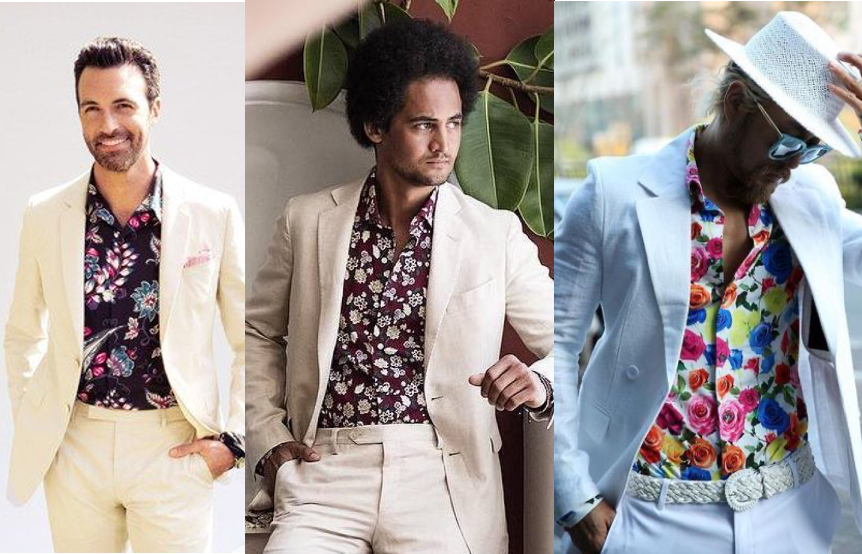 White and cream suits scream summer and are just asking for some colour. As a blank canvas you can really go for it with your shirt: multi-coloured and as wild a pattern as you can handle.
Floral shirts are a classic for any occasion, a paisley also works anywhere but has connotations of weddings. Otherwise the choice truly is yours, with a white/cream suit its probably harder to not match the shirt to the suit.
Black isn't quite as easy to go bold with, but if done properly a black suit with the right pattered shirt can look very classy, even when smart casual.
Fewer colours work with black, the best options being red or gold, especially if only in smaller doses e.g. a black shirt with a subtle gold or red print. Black is of course the daddy of monochrome so it goes without saying that black and white should always be on your go to list. A zebra print shirt would be a great option, as would a snakeskin print for a rockstar on the red carpet aesthetic.