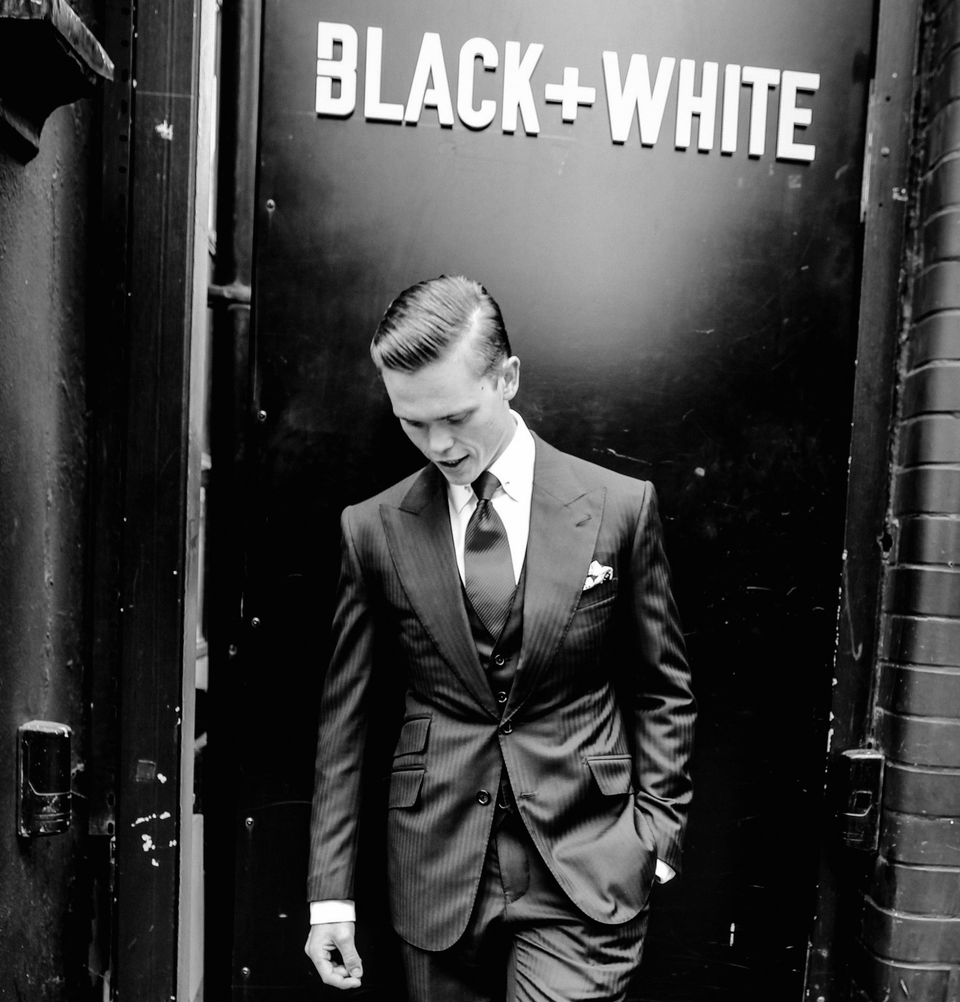 In the fashion world there will always be shifts in style as new designs are introduced to the world. A lot of the time these designs are so flamboyant in both style and in colour that they are simply un-wearable in any real world setting.
However, after the initial display of these elaborate runway-show garments, the designs filter through many design technicians and marketing teams alike before said garments are ready for 'general consumption', as it were. It is these garments that hit the high street each season and form the coming months taste, stylistically speaking. For example, we've seen a rise in long line and torn clothing from within the casual wear industry while the suit industry has been brimming with slim and skinny fits.
Where this is true for high street clothing, it is quite the opposite for traditional bespoke tailoring and its stylish reliability. As we know, the techniques used for creating bespoke suits has remained relatively unchanged for over centuries. In-house tailors advise clients during meetings on cloths and styles. Because tailoring has been traditionally kept in-house like this, only a few tweaks in style have appeared over the years.
This was true up until recent years when the new age of technology opened to the world up to apps like Pinterest and Instagram. With these it became much easier for people to find pictures of the loud runway suit styles and draw inspiration from them. When they then take these ideas to their tailors they have a much more unique, individual idea of what they want their suit to look like. Thus the evolution of bespoke tailoring begins.
Only a few decades ago, suits were seen in mostly subtle greys and blues with pinstripes being the louder option. Now it isn't uncommon to see much brighter cloths in checks, stripes and various elaborate patterns. For office-wear, the blues and greys remain popular of course but it is in the more casual settings that the louder suits are getting their time to shine.
It is clear that the world is changing faster than ever, as technology offers new ways to create suits with the likes of laser cutting, for example. Even the world renowned tailoring houses of Savile row are changing the way they work; older generations of tailors are beginning to retire, leaving the legacies in the hands of the new generation.
While the shift from subtle old school tailoring to the new age bright tailoring may seem ridiculous to some, it is a change that must be embraced. Old and new can work together and that is what Fielding and Nicholson aims to achieve. By bridging the gap between the expensive old-school Savile row methods and the more affordable new age tech tailoring we bring bespoke back into the 21st century.
Owning a fully bespoke handmade suit is a pleasure like no other and that pleasure will never fade – but it does come with a larger price tag. Choose a suit cut by computer and assembled by hand and you will have the best of both worlds. Or, choose to go made to measure with an entirely computerised suit – there's an option for everyone. The biggest perk of all? You can browse the internet for inspiration to your hearts content and when you find the style you want – no matter how ornate it may be – you know you can have it made just like that, because its bespoke. We look forward to seeing your styles!