Dress like the best: Sebastian Stan
Since the early noughties Romanian-American Sebastian Stan has been appearing across TV shows and film. Since his appearance in the Marvel Cinematic Universe's "Captain America" his career has exploded. His increasing fame has of course seen him on many-a red carpet and on a few occasions he's made appearances in GQ – there's no doubt he's a stylish man. We've put together just a few examples of how to emulate Sebastians undisputed style.
Tone on Tone
A vast majority of gentlemen favour a simple white shirt under their suit, regardless of the colour or pattern of the suit – and rightly so, as the white shirt matches anything you throw at it. Besides white, lighter blues and light pinks make appearances under darker suits, but less often seen is a darker tone on tone look.
Sebastian opts for this bold look often, with navy shirts under lighter blue suits and black shirts under navy suits. The most extreme example of this is the sinister looking all black suit, shirt and tie combo. Less appropriate for the office, the darker shirt contrast is perfect for a sleeker look that one might don for an evening event.
Go Green
All shades of green have an incredible versatility. Sebastian, above, demonstrates how vast of a difference the shade and cloth make. The dusty, mossy green on the left is smart and subtle while still adding a touch of colour to the ensemble. The brighter green on the right has a real punch and is styled with big bold peak lapels, perfect for a summer statement look.
Another of Mr Stan's signature moves is to swap out a shirt for a polo shirt or a T-shirt, which is a great way of modernising your look, as well as swapping out some of the formality of a suit for a little touch of casual comfort. Compliment the relaxed T-shirt and suit look with a pair of sneakers, instead of a smarter smarter shoe and you'll be as comfy as you are cool.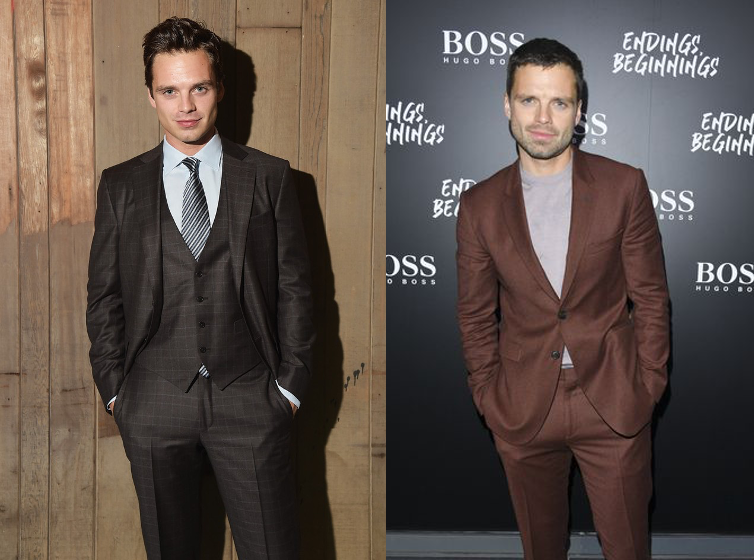 Brown is back
More and more frequently brown seems to be making its way into the wardrobe of the modern man. Worn with a shirt and tie Brown suits appear in the workplace as a sharp alternative to the vast array of blues and greys. Once again Sebastian shows us that a suit and T-Shirt never fails, though its a style that works best with suits in a lighter shade – as above.
Despite its increasing popularity, some still think of Brown as a dull colour. Whilst not the most vibrant of options, it goes very well with a vast array of other colours. This makes mixing and matching garments or accessories easy, which is an effective way of adding a punch to your look.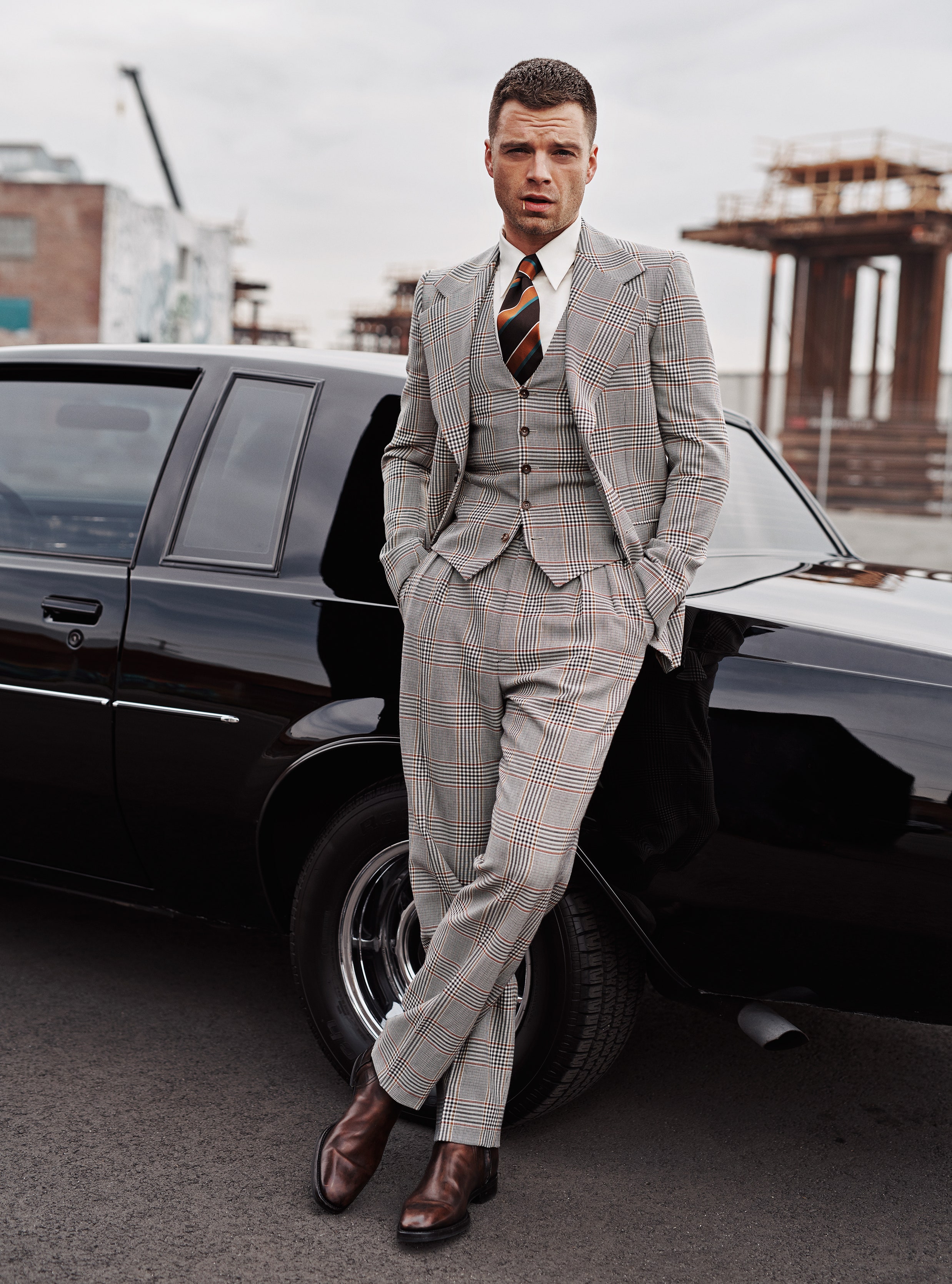 Check, mate
Many men fear a check suit, deeming it too flashy and ostentatious. While this is true of some the more extravagant colours and bolder checks, quieter classics like a prince of Wales have remained a timeless staple deserving of its place in any gents wardrobe.
If on the other hand you're looking for something with a bit more kick, don't be shy to reach for a bolder pattern. The wider the check the more attention it will likely bring you and of course brighter, multi-colour garments will do the same. Not a man shy of a power look, Mr Stan shows us how to pull off either check.
Keep it light
Taking any colour suit and going a few shades lighter makes for a perfect summer look. A light blue suit over a classic white shirt and Navy Tie as on the left is perfect wedding attire, or swap the shirt for a T and white sneakers and you're ready for a smart-casual night out.
Of course being on the spectrum of Blues any colour will match, and being a plain design it's a great way of introducing bright and patterned shirts to your suits, a style becoming increasingly popular as of the last few years.