Mix and Match
If you're reading this, there's a fair chance you're into your style and your suits. Perhaps you're looking for ways to get more from your wardrobe, without having to bust the budget on more clothes. Jeff here doesn't have to worry so much about the budget, but he knows the value of mixing up existing garments to create a fresh new look.
Grey and blue suits are the most common suits in any wardrobe, so a good place to start is to by blending the basics. Wear the grey (light or charcoal works) trousers with an ever-faithful white shirt and pop on the blue (darker Blues work best with greys) suit jacket et voila – you've got yourself a simple but refreshing new look.

If you're more of a casual sports jacket kind of guy then you may well have more colours and textures to play with; take Jeff's Brown cord jacket below – he's gone with a pair of light grey trousers (there's that grey suit coming in useful again), but a neutral cream or white pair would work just as well for a brighter more summery look. Earthy greens and oranges would go nicely for a more brooding autumnal look – all built from mixing one brown jacket!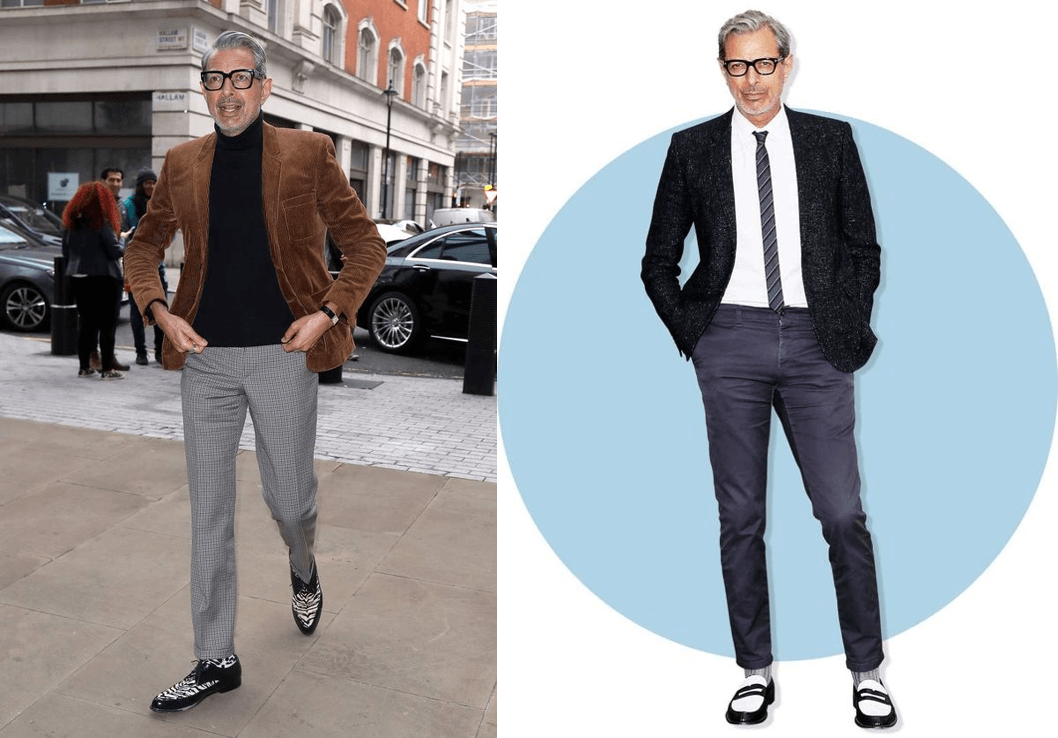 Don't neglect the classics
Goldblum is a self-proclaimed eccentric, who confesses to generally favour bright colours and more… ahem… Unusual pieces. Yet on more than one occasion even Mr Eccentric himself is seen sporting the timeless suits that wouldn't be out of place on Sir Sean Connery in Dr No.
We've said it before, and we'll say it again. 
An immaculately fitting light grey or a navy blue suit will never fail you. There's a reason they keep popping up on the "best dressed men" lists every year. These classic suits work for every skin-tone, every shape and every age generation. If in doubt – go classic!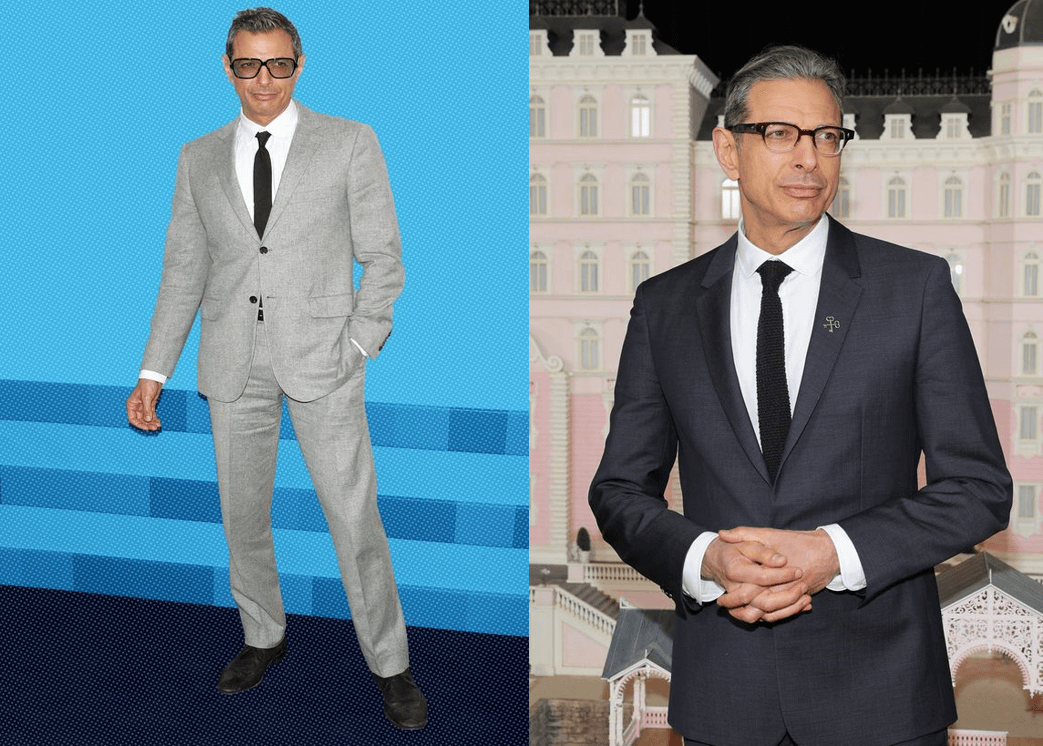 Little Twists
There's a lot of very loud looks of Jeff's that first jumped to mind when contemplating this blog, but while we love his more powerful looks, we don't want to scare anyone or suggest that you can get away with anything – especially at work! That said, a little flare can be the difference between a good look and a great look, a great look and your look.

To best illustrate this point, once again the classic grey and blue suit comes into play. Here though, the name of the game is giving the basics a twist that you might not expect. That doesn't have to mean anything too garish though – a more casual patterned shirt is the simplest twist you can make but it makes a world of different. The classic suit suddenly has a new lease of life as a cooler, more relaxed aesthetic. If you're feeling a touch more adventurous, experimenting with your foot ware is another detail that can spice up an otherwise basic suit. Jeff shows us how it's done with his two-tone black and white loafers that crop in many of his looks. A clean white sneaker is another option for an even more casual variation.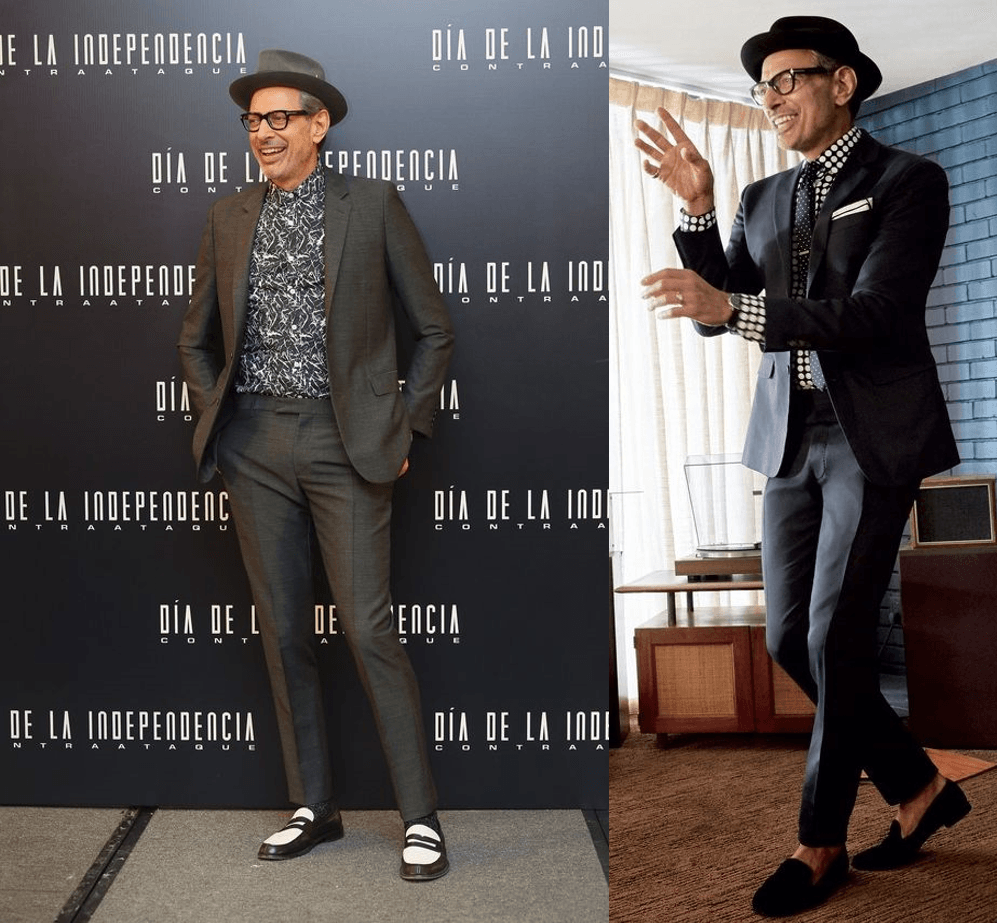 Neutrals
Still quiet for Mr Goldblum, but we felt it only right to throw in something a little more flamboyant than the faithful classics. Pairing neutral colours together is a great way of creating a bolder look, without coming across as garish which bright colours tend to do. The soft pallet isn't restricted to seasons as much as some colours (E.G browns and deep greens being autumnal), which makes it a great option for any time of year.
The below examples demonstrate this point quite nicely: for a warmer wintery feel Jeff's put together a neutral combo of cream chinos and a chunky wool roll neck, topped off with a thick double-breasted jacket (We'd wager it's a cashmere or cashmere-blend). What works best about this look is that although there's no strong colours or patterns, the different textures of the cloths dimension which keeps the eye entertained.
For a summery take on the neutrals, we've got a great dual purpose example below. The camel colour suit is in itself a great call for summer, but Jeff's gone the extra mile and given it a little twist (see above) with the patterned shirt.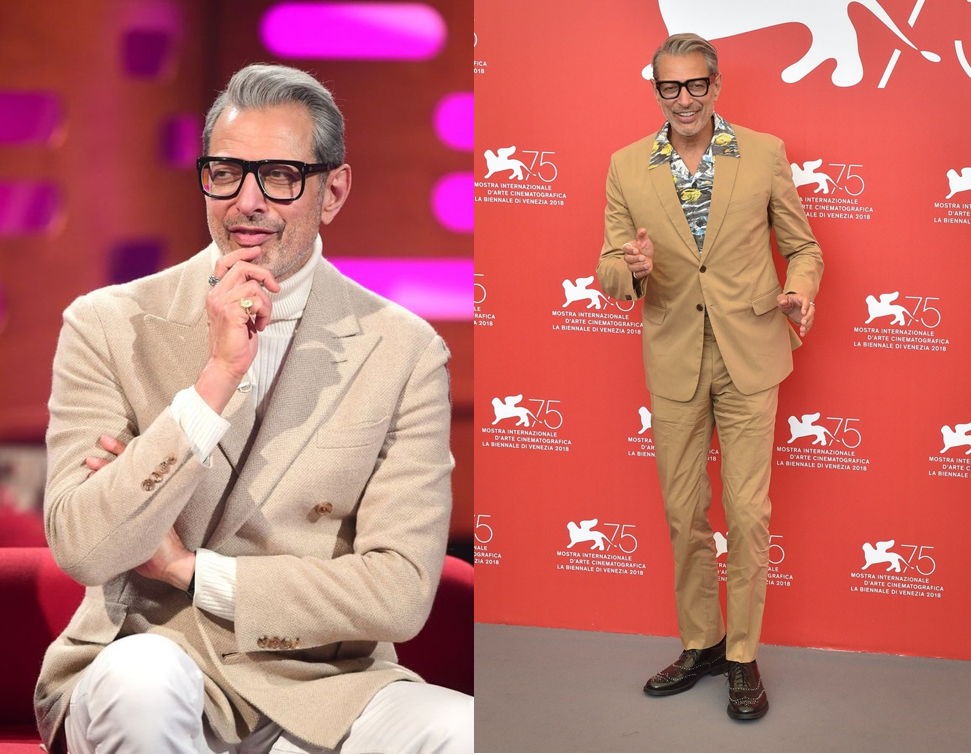 Monochromatic
When you hear monochromatic, your mind probably goes directly to black and white. You're not entirely wrong, but you're not entirely right either… Monochrome by definition means "Having only one colour". Any colour can be dressed monochromatically, as long as you stick between the lightest and darkest hue of that one colour. That said, the most common example of this is indeed black and white, so for simplicity that's what we're focusing on here.
The magic word when playing the monochromatic game: texture. As a rule of thumb, if you aren't relying on colour or on pattern, texture is your saving grace. Without a bit of depth any solid mass of one colour can end up drowning you – never a good look! Black is a great example: Jeff's done it with a moleskin/velvet jacket, wool rollneck and sleek suit trousers. Three different textures keeps the eye entertained. If each piece was the same colour and cloth, Jeff may have ended up looking more like a bouncer.. albeit a dapper doorman.