Where It Started
Dinner suits were first invented by Henry Poole of Savile row in 1886. The then Prince of Wales requested that his tailor make him a short tailcoat to be worn to formal dinners. He felt that his everyday lounge suits were too casual for such events, while tailcoats he saw as too formal – besides the tails were an awful nuisance whist seated or dancing. The original dinner suit was cut from midnight blue mohair, as the cloth had a slight shine and appeared black in low light whilst appearing blue in the day.
Though a midnight blue was the first type of dinner suit, black became a more popular option, which is why most dinner suits seen today are black. This being said, many celebrities have popularised the idea of different coloured and textured dinner suits. While this experimentation is great if you are a celebrity, arriving to a black-tie event in a red jacquard dinner suit may raise more than a few eyebrows and could even leave you thrown out in the cold!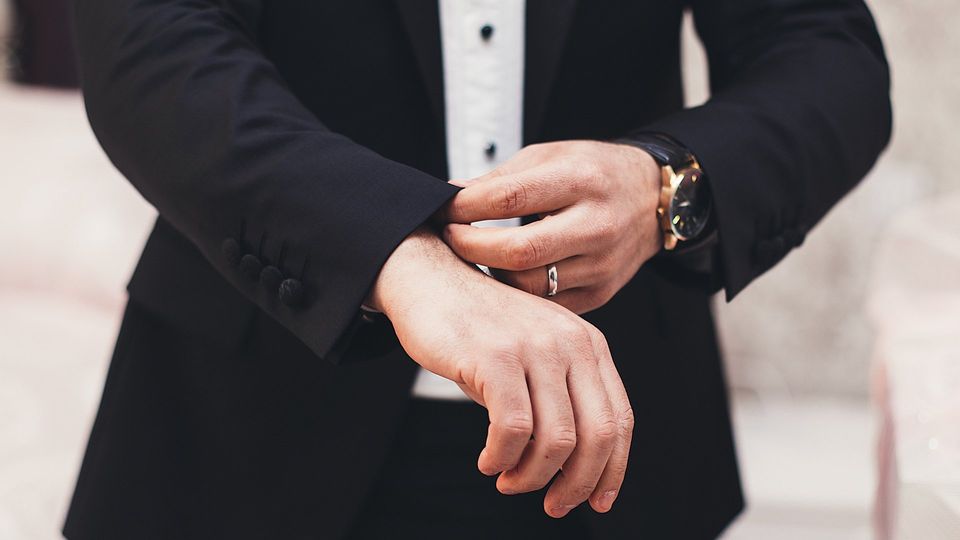 The Basics
A dinner suit should look immaculate. All lines should be clean and interrupted. Even if every other rule in the book is followed, an ill-fitting dinner suit will look awful. Unless you are incredibly lucky and find a hire or off-the-peg suit that fits – go bespoke. You will have the suit for many-many years, and it will fit perfectly every single time.
The Suit
There are a few basic ideas behind the dinner suit that should be followed to keep a dinner suit, a dinner suit. Such as…

Lapels – For a dinner suit there are two options for your lapel, these options are shawl or peak. Shawl lapels are only seen on dinner suits and smoking jackets, as these are very formal garments. A peak lapel is also very formal and so is perfectly acceptable on dinner suits. Regardless of which of these lapels you chose, it should always be in satin. Be aware that notch lapels – the least formal of the lapels – should only be saved for day-to-day lounge suits. 

Pockets – A dinner suit should always have Jetted pockets in satin to match the lapels. Flap pockets and patch pockets both create unwanted bulk and as a dinner suit is extremely formal, it requires as little detail as possible. 

Buttons – Dinner suits are traditionally single breasted with only one button. This button should be kept fastened at all times. The addition of a second button (which should never be fastened) creates extra unnecessary detail which is to be avoided – if it's single breasted, it should only ever have one button. This button (and the cuff buttons) should be satin covered to match the lapels, again helping blend it into the suit and remove any unnecessary detail. 

Some dinner suits in the modern age are double breasted. As long as the rest of the Dinner suit rules are followed, this would be perfectly acceptable at a black tie event. However, if you are following the theme here, the less buttons on the garment, the cleaner the look is. By that rule, a 2×2 double-breasted garment will be smarter to look at than a 3×2 double-breasted. 

Vents – On a British lounge suit you will likely find two vents on the back of the jacket. These allow for movement and comfort when the suit is worn all day. Dinner suits on the other hand do not need this added movement; their sole function is to make you look immaculate. It is for this reason that a true dinner suit should have no vents. No vents means the jacket will remain stiff with little movement, reducing the risk of creasing and, as it is worn only one or two evenings a year, comfort should be of little concern!

The trousers – The trousers can be pleated or flat fronted, depending on taste, but must always have a plain hem (to reduce detail) and a satin band running down the outer seam to match the lapels and pockets. Some choose to have the trouser high waisted to prevent the white triangle of shirt showing between jacket and trouser – with the triangle gone there is no need to wear a cummerbund or waistcoat.

The waistcoat – Not seen very often these days, is a waistcoat with a dinner suit. It used to be that a dinner suit should only ever be worn with a waistcoat or a cummerbund, so as to stop the little white triangle of shirt from showing between the jacket and trouser. However, if you do opt for a waistcoat, it should be a horseshoe (scoop). Either double or single breasted is acceptable.
The Risks
So we know that midnight blue or black are acceptable. Brighter colours have been touched on and – though celebs do it – should be avoided for black tie. This leaves the infamous white dinner jacket. Popularised by Sean Connery in Dr. No, the white dinner jacket is seen by some as the coolest option for dinner wear. It's a great way of getting noticed, but not always for the right reasons!

As a guest at a host's dinner function, arriving in a white jacket may be interpreted as an attention seeking look-at-me manoeuvre, so be cautious and gauge how appropriate it will be – perhaps even ask the host if it is acceptable, beforehand. Some might suggest that a white jacket is only acceptable for dinner attire in hotter climates, making it a good option for cruises and get-aways.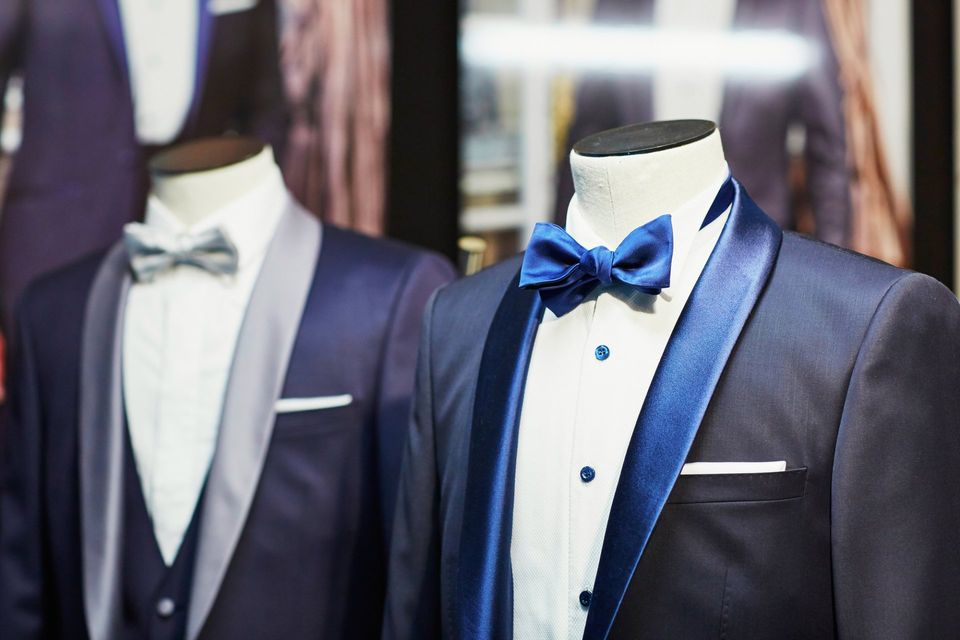 Add Ons
Shoes and socks – There are really only two shoes styles you can chose from, the first (and safest in Britain) is a patent whole-cut oxford. The whole-cut eliminates detail on the shoe (such as toecaps) and the high shine that a patent shoe offers adds formality that your day-to-day oxfords do not have.

The second, riskier option, is to wear a formal pump with a ribbon atop the shoe. This style shoe should still be black patent leather but exposes more foot and adds a detail that some might frown upon – so wear with caution. Tradionally. socks would always have been black silk but, – in this day and age – as long as they are black, they will be perfectly acceptable.

Shirts – Perhaps the biggest faux pas seen with black tie is not the suit itself – but rather the shirt that it is paired with. A dinner suit should only ever be worn with a turn-down collar, be it a kent or a cut-away. NEVER a wing-tip collar. Wing-tips are to be reserved for morning wear and white tie functions. The cuff should always be a double (French) cuff, or – again because of Bond – a cocktail cuff. Both cuffs require folding back, but a French cuff creates the need for cufflinks while the cocktail cuff fastens with buttons.
Traditionally shirts would be worn with a pleated bib, though nowadays this is seen as a very old-school style. A Marcella bib is a more modern alternative. The shirt should either have its buttons hidden under the front placket, or it should be fastened using black or pearl shirt studs.

Cufflinks – Another common faux pas is to wear any old cufflinks with a dinner suit. Cufflinks should be either in black or pearl – much like dress studs.

Pocket squares – When wearing with a dinner suit, one should only ever wear white and (if following the rule book) linen – folded into a neat rectangle. Anything more flamboyant detracts from the rest of the tidy/ immaculate look of the suit.

Bow tie – As long as the bow tie is black, you are fairly safe from the fashion police. This being said, tiny or huge bow ties are a huge no-no. The bow tie can have pointed ends (suits a pointy peak lapel beautifully) or flat (best with shawl lapels). The edges of the bowtie should be in line with your pupils. A ready-tied bow tie is acceptable, but a self-tie bow tie is preferable – besides, is there anything cooler than an undone bow-tie at the end of a night?

Watch – Wearing a watch to a dinner event is traditionally unacceptable. It signifies that you are watching the time, a very rude thing to do when you have been invited to a party. If you absolutely must wear a watch however, it should be as subtle as possible; this means a black leather strap and a silver casing.

Coats – If you are wearing a coat it must be black. Double-breasted is preferred as it is more formal, though a single-breasted coat will not have you thrown out.

Scarves – A white silk dress scarf is a nice addition to your dinner suit – it gives you a chance to add individuality, as not many people will have thought of it. This being said, make sure it is white and silk – anything else is unacceptable.

Cummerbund (also known as cumberbund) – A cummerbund should only be worn if you are NOT wearing a waistcoat. It is to prevent the little white triangle of shirt and so is redundant if wearing high waisted trousers or a waistcoat. If you are wearing one however, it should only ever be back silk.
Summary
Sounds like a lot of rules doesn't it? To simplify; the fit must be perfect, details should be minimal and all of it should be of the best quality that you can muster. If faced with a "do I/don't I" question, ask yourself – what would Bond do?